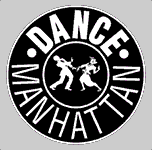 Testimonials & Reviews
Wedding First Dance Lessons


in NYC

at Dance Manhattan Studios






"Dear Dance Manhattan, With sincere appreciation and warmest thanks to you. You have one of the greatest Tango Instructors ever! We are forever thankful & hope to return for a dance in the near future! --- Best, Marielle & Roderick Rodriguez

"Dear Audrey, We cannot thank you enough for the time (although short) & effort & support you gave us to perform our wedding first dance. In that short time, we learned a lot & know from the first day how amazing you are! We had the best time learning, practicing & dancing on our wedding day!"

Marielle & Roderick
First Dance choreographed by Audrey Martinez
April 2012




" ...We were so prepared, knew the dance so well and had danced together so much, we handled it with ease.
Everyone said they had no idea we could dance like that and credited me with working
the miracle of making my new husband dance, and dance so well! "






"Thank you so much to our instructor, Jason Myra, and the wonderful dancers from our Dance Manhattan performance class who generously offered this gift of a performance at our wedding."

Mitchell & Tanya
First Dance Video: choreographed by Jason Myra, 2011,
Courtesy of Bigler Productions


""...we were extremely happy and satisfied with our experience and with our dance instructor Suzanne Temple. She was efficieint and to the point, was able to teach us all the critical moves in a fairly limited amount of time. Suzanne has a geat balance between imposing her (professional) suggestions and incorporating what we tried to accomplish...and also kudos for being very patient and coming to class with constructive/positive energy. Overall much more than what we were expecting!!!"

Dubravko Lakos-Bujas and Ana Naglic, August 2012





"We had worked directly with Evita & Nathan in private lessons to come up with a dance sequence. I can not say enough about either of them and how wonderful they are...Evita & Nathan are a huge part of why Meredith and I continue to come back (Dance Manhattan's caliber...is a large part as well), braving traffic, and drive down from Westchester County once a week to keep up the classes."

Jason & Meredith Black
First Dance Video: choreographed by Evita Arce & Nathan Bugh

Dance Manhattan specializes in First Dance lessons in NYC. Our ballroom dance lessons and wedding dance lessons in New York City and New Jersey have a stellar level of recommendation because our dance instructors individually create one-of-a-kind choreography to your choice of music.

Included with your wedding dance lessons, you'll learn the wedding dance etiquette along with your chosen dance technique and most importantly your dance choregraphy or routine. We always provide as many supervised rehearsals as you like, until you feel completely confident and comfortable with your first dance preparation.

For exceptional fun, we also provide dance lessons for your bridal party! Instructors can supervise your bridal party dance "rehearsals" at our NYC rehearsal space, providing a lifetime gift of dance basics to your friends and family.

Questions? Call our Wedding Specialist Today
at 212-807-0872

One of our Wedding Dance Lesson Studios
Space 4A • 31.5' x 23' • 724.5 sq. ft
Mirrors • Hardwood Floors

Another Classroom for Wedding Dance Lessons
Space 4B • 35.5' x 26' • 923 sq. ft
Mirrors • Hardwood Floors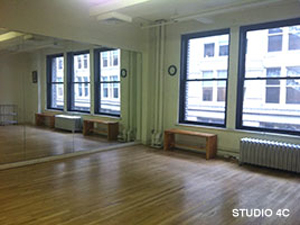 Wedding Dance Lesson Studio at Dance Manhattan NYC
Room 4C • 18' x 20' • 360 sq. ft
Mirrors • Hardwood Floors

For wedding dance lessons in New York City, Dance Manhattan ballroom dance studios maintains first dance lessons space in NYC for wedding couples dance lessons.

All studios have hardwood floors, which provide exceptional instructional surface for learning your First Dance, and most similar to wedding reception ballroom dance floors.

Full length dance mirrors in most classrooms help you and your instructor make decisions about movements and pose for your dance. Because of these features, plus our high ceilings, several "Dancing with the Stars" celebrities have chosen to rehearse in our spaces in recent years.

Dance Manhattan New York ballroom dance studios are also the ideal place for you and your Bridal Party to take dance lessons in NYC after your wedding. Instructors specialize in Ballroom Dance Classes, Swing, Salsa, Argentine Tango and several other styles of ballroom dance.

We are centrally located in the heart of Chelsea in NYC and easily accessible by subway, bus, bike or on foot from NY Metro Area and New Jersey.

Stop in to visit our beautiful facilities on two floors at 39 West 19th Street, or view our extensive classes schedule and private lessons descriptions on line at http://www.dancemanhattan.com/.

For more Testimonials for
First Dance Wedding Dance Lessons in NYC

call us today at

212-807-0802





Wedding Dance Lessons NYC HOME | First Dance Lessons NYC ABOUT | REVIEWS & Testimonials | In the News | CONTACT US