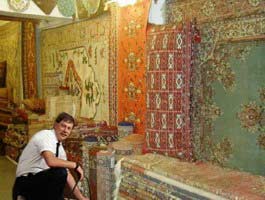 Wecome to Fidan Carpets and Flooring. We are here to serve, as the Fidan family has for over 30 years on Long Island, and in New York.
Before purchasing new carpeting or an oriental carpet there are several things that you should consider. The following is a short guide to help you choose the right carpets and carpeting for each room in your home.
•Location/Use: How much traffic does your room endure? For heavy traffic areas, you should always choose the best carpet you can afford. Look for high performance ratings for any room that is the center of family activity.
•Color: Because carpeting is the foundation of a room's decor, color is an important consideration. Carpet color is often a personal choice. While warm colors can heat up a room with little light, cooler colors (greens & blues) can have a calming effect. For high traffic areas, dark colors and textures help hide stains and abuse. Fidan Carpets & Flooring can help.
•Textures & Patterns: Improved carpet technology allows you to choose from several carpet textures and patterns. A solid colored, textured carpet can add interest and excitement, without being overbearing, to any room in your house.
•Cost: Price is often a key factor when selecting carpets and rugs. Always ask yourself how long you plan on keeping a carpet before purchasing it. Better quality products, which often last longer, are more expensive than lesser quality carpets. Mid-priced carpets are good for rooms that receive little traffic. Always be wary of cheap carpets...chances are you will not be happy with your purchase.
Simply stop in to our showroom, or call us your questions, or to make an appointment. We are able to help with your every flooring and floor covering need, and happy for the opportunity to do so.
Showroom Telephone: 516.385.4488 Email: Info@FidanCarpets.net