Rental Space NYC
Rehearsal Space NYC & Audition Space NYC
Dance Manhattan Dance Studios Chelsea
---
RENTAL SPACES NYC FOR FILM SHOOTS, REHEARSALS, AUDITIONS, PHOTO SHOOTS - call us for the best rates in town!

ABOUT STUDIO RENTALS: Our beautiful facilities are available for private parties, dance rehearsals, play readings and rehearsals, small meetings, singing and acting lessons, film and photo shoots, auditions, practice space, dance instruction, etc. Availability includes individual rooms as well as an 1800 sq. foot Party Room!

Most availability exists Monday through Friday from noon to 6pm but many other options exist. Some weekend evenings are available for parties (e.g., 1st, 3rd, 5th Fridays; 4th, 5th Saturday; some Sundays).

Please call us to inquire about availability for your specific needs at 212-244-0011.
Facilities feature beautiful hardwood floors, mirrors, sound systems, and cafe tables and chairs. Individual roons rent for $45-65/hour. Rental of the 1880 sq. ft. Party Room starts at $150/hr.. See Floor Plans to the right and call the studio to ask about specific availability.
SPACE RENTAL NYC - Long & Short Term Availability: Whether you're looking for studio space by the hour or for long term, recurring rehearsals, simply call us at 212-244-0011 to discuss your needs. Everyone is welcome - just call!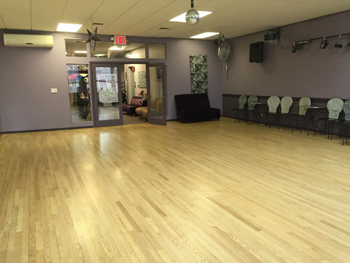 Dance Manhattan New York dance studios, the ideal place to take dance lessons in NYC, where instructors specialize in Ballroom, Swing, Salsa, Argentine Tango and Wedding "First Dance" Lessons We are conveniently located in the heart of Chelsea. Offered are a full range of private lessons, group classes (singles and couples classes) at all levels, one-day crash courses and workshops, and introductory packages.

Popular dance events at our studio include Tango Mondays, West Coast Wednesdays, Theme Fridays and Salsa Sundays. Students are prepared to have fun at casual evenings out, special events, or even their own weddings.

Our facilities are also for rent. Our studio is centrally located and easily accessible by subway, bus, bike or on foot! Dance Manhattan is the ideal rental space in NYC for dance rehearsals, play readings & rehearsals, small meetings, singing & acting lessons, film & photo shoots, auditions, practice space, and dance instruction.



For Hourly Rental Space in NYC,
call us today at 212-244-0011