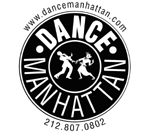 LUNA Tango Salon - every Monday
West Coast Wednesday - every Wednesday
(replaced by John Festa's Bowling Alley Swing Dance on Wed, Nov 28)
NOVEMBER Dance Events NY

DM is closed for classes and lessons Thu-Fri, Nov 22-23 and Sun, Nov 25
* FYI – the next 4-week Group Class series begins Monday, Nov 26


Sun, Nov 25
The Marc Ballroom
JANUARY 2013 Dance Events NYC
Fri, Jan 4
George Gee Big Band Dance - 17 piece big band and The Manhattan Dolls
Saturday, February 2
Lindy Hop Workshops with Peter Strom & Naomi Uyama
Saturday, February 3
Lindy Hop Workshops with Peter Strom & Naomi Uyama
---
RENTAL SPACES NYC FOR REHEARSALS, AUDITIONS, PHOTO SHOOTS
Our beautiful facilities are available for private parties, dance rehearsals, play readings and rehearsals, small meetings, singing and acting lessons, film and photo shoots, auditions, practice space, dance instruction, etc. Availability includes two dance rooms, approximately 700 sq ft each, as well as a party room of 2000+ sq ft. All feature wooden floors, mirrors, cafe tables and chairs and sound systems.

Most availability exists Monday through Friday from noon to 6pm. Please call us to inquire about availability for your specific needs (212-244-0011 or 212-807-0802).

Whether you're looking for studio space by the hour or for long term, recurring rehearsals, simply call us to discuss your needs. Everyone is welcome!