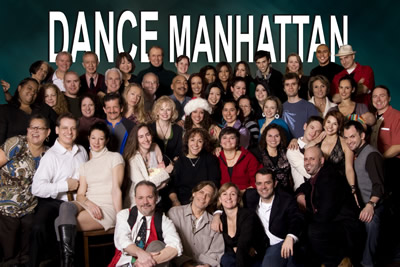 About Dance Manhattan - Ballroom Dance Lessons in NYC
Our Commitment to Excellence

Dance Manhattan has one mission for the dance classes offered at its studios, to provide the best possible atmosphere for learning and having fun. The objective is for each student to be inspired to grow, learn and express themselves creatively . . . making new friends in the process.

Learning Environment

Dance Manhattan is an ideal place to learn and perfect Social Ballroom, Swing, Argentine Tango and Latin dances.
Instructors offer a full range of classes. We take great pride in working with only the best of the best instructors and affiliated guest artists. These talented artists are friendly, versatile, and truly care about teaching you how to dance.

Social dance parties are held to foster social aspects of the dances that we teach. Our popular weekly events include Tango LUNA Mondays, the longest running Tango Salon in NYC hosted by Rebecca Shulman, West Coast Wednesdays and Theme Fridays. You can also stop by every Saturday for the Big Apple Ranch Gay & Lesbian Country dance, every 1st/3rd/5th sunday for Jimmy Anton's Latin dance, and every 2nd/4th Sunday for the MARC Ballroom.

Contact and Location Information
Address:
Dance Manhattan Studios,
39 West 19th Street, 5th Floor
Manhattan, NY 10011

The studio door is on 19th between 5th and 6th, one door to the right of Tiger Schulman's Karate.
Take the elevator to the 5th floor.
Telephone: 212-807-0802
Email Addresses:
info@dancemanhattan.com : questions or problems with classes
webmaster@dancemanhattan.com : problems or comments on the site
Parking:
Street Parking is available on 19th Street starting at 7 PM, but you must move your car by 11 PM or it will be towed. If you'd like to garage your car, the following is the best deal in the neighborhood!
Central Parking System at 20th & 7th : Only $18 for any 6 hours with coupon from their web and credit card payment
Subways:
N, R, W train: 14th and 23rd St. Stations. YELLOW line.
F, V train: 14th St. and 23rd St. Stations. ORANGE line.
IRT Local 1 train: 14th Street or 18th Street. RED line.
Local Restaurants, Delis and Watering Holes:
Food Depot, 5th Ave: is located just south of 19th Street. It's open 24 hours and a good place for soda and snacks.
Flatiron Lounge: This local hotspot is 2 doors east of Dance Manhattan and serves drinks (no food) until the wee hours of the morning.
SALA 19 @ 35 W. 19th: Moderately priced restaurant/bar with a full menu of Spanish Cuisine. The food here is great! SALA 19 participates in Dance Manhattan's VIP program by offering a 10% discount with a valid VIP card.
Studio Rentals Floor Plans Click Here
ABOUT STUDIO RENTALS: Our facilities are available for private parties, dance rehearsals, play readings and rehearsals, small meetings, singing and acting lessons, film and photo shoots, auditions, practice space, dance instruction, etc.
Significant availability exists Monday through Friday from 10am to 5pm but other days and times are also an option. Facilities feature beautiful hardwood floors, mirrors, sound systems, a piano, and cafe tables and chairs. Call the studio and ask for current rates and availability.

SPACE AVAILABLE FOR THE LONG OR SHORT TERM: Whether you're looking for studio space by the hour or for long term, recurring rehearsals, simply call us at 212-807-0802 to discuss your needs.